There's a joke about Terry McAuliffe. He made it up himself.
"Lot of history here," he'll tell guests at the Virginia Executive Mansion. "Our first governor, Patrick Henry. Our second governor, Thomas Jefferson. And now" — he pauses, and by this point he's already smiling — "TERRY MCAULIFFE! Is this not a great country we live in?!"
Somehow, you don't need to know everything about the Virginia governor, or his life in politics, to understand the unlikely comedy of his name on a list with an American revolutionary and a Founding Father. But if there is something improbable, even innately funny, about McAuliffe in statewide elected office, the governor doesn't just know it — he's laughing along. He's in on the joke. "Mika! Mika! Mika!" he yells to Mika Brzezinski at the end of a hit on Morning Joe. "I want to say one thing to Mika. Think of this tonight when you go to bed, Mika! Our first governor, Patrick Henry…" And just like that, before 9 a.m., he's cracking himself up on live TV.
For a long time, there was one story about Terry McAuliffe, and it went something like this: record-breaking fundraiser, Bill Clinton's best friend, fixture of Washington, wealthy by way of business by way of politics (screw optics!), an all-out all-the-time Democratic Party chairman who never napped, hardly slept, always had fun. It started, perhaps, in Syracuse, New York, at age 6, when he worked his first fundraiser for his father. ("Terry," he told his son, "if they don't give you the money, they don't get in the door!") Or maybe it was in 1980s Washington, where he said he made as many as 100 calls a day, many on a clunky cell phone, driving through the city in his windowless, open-air Jeep. By the end of the Clinton administration, he was known as a man who could charm any donor and would do anything for a check. (See: wrestling an alligator for $15,000 from the Florida Seminole tribe.) (Also see: selling Clinton inaugural memorabilia on QVC.) His nickname, "the Macker," became a kind of onomatopoeic shorthand for the fundraiser and political operative he embodied: a backslapper, a glad-hander, a man who loved the game and didn't pretend otherwise; who got along with people like Bill Clinton because "to us," he once said, "the glass isn't half-full, it's overflowing"; and who named his memoir, of all things, What a Party! — "because the bottom line is that you gotta have fun in life!"
In 2017, at age 60, Terry McAuliffe is "His Excellency, the 72nd governor of the Commonwealth of Virginia." He is a leader in the party, Governing magazine's Public Official of the Year, popular in his state. He will leave office in fewer than 50 days as a possible presidential candidate. He is seen as both the most progressive governor in Virginia history and the best in economic development, racking up a record-breaking $18.7 billion in new capital. This summer in Charlottesville, he found himself at the center of a national inflection point, when he told white supremacist and neo-Nazi protesters what President Donald Trump would not. ("There is no place for you here. There is no place for you in America.") He has surrounded himself with a team of political operatives and informal advisers, including top aides from Hillary Clinton's presidential campaign. And last month, voters in Virginia elected his hand-picked successor, Lt. Gov. Ralph Northam, a candidate who once said that when "people ask me if I am going to continue what Terry McAuliffe has been doing," his answer is nothing less than this: "Damn right, I am!"
There are obvious differences between McAuliffe's last four years and the previous 40. He's got all the trappings of high office now (the title, the black car, the helicopter). His accent, an indefinable Syracuse-southern-folk drawl, is perhaps more Virginian than before: final R's and G's are dropped (it's "hurtin'," never "hurting"), long I's and short A's are drawn out into new vowels ("ecaahnomy," not "economy"). And day to day, the requirements of the job itself mark a significant shift for McAuliffe: Before the Charlottesville press conference, his most well-known TV appearance would have been on Morning Joe, in June 2008, when he celebrated Hillary Clinton's primary win in Puerto Rico by wearing a Hawaiian shirt and hoisting a handle of Bacardi on air.
But in more moments than not, today's governor looks and sounds just like the Macker.
The fundraiser who said he'd "stop at nothing to try to get a check from you" now spends his time courting business to the state with the same vigor. The chairman who led the party as its "chief cheerleader" now heads one long continuous pep rally for Virginia. The entrepreneur who started an estimated 30 companies — maybe simply because of an impulse to, as he once said, "have 25 balls in the air at the same time" — is still trailed by headlines about his business dealings.
"People want to be with winners. They don't want to be with whiners."
And the man who described his "bottom line" as "you gotta have fun" leads the state with the same management style. To McAuliffe, it's not just "fun." It's a philosophy for governing.
"You want to move people with you? You've got to have fun doing it," McAuliffe says in an interview, seated on the back patio of the Executive Mansion. "People want to be with winners. They don't want to be with whiners. Too many lemon-suckers in this business!"
The approach, to the surprise of many who would have never predicted McAuliffe in statewide office, has translated to a distinct economic message and legislative wins in a state that is trending liberal but still controlled by a Republican assembly. Yet it also makes him, then and now, an embodiment of the very thing many progressives have rejected over the last few years: an establishment insider; a creature of Washington; a pro-business, corporate dealmaker; a Democrat known perhaps best of all as a loyal Clintonite, all at a time when Bill Clinton's legacy is under new scrutiny and Hillary Clinton's presidential campaign continues to divide the party.
But if you ask McAuliffe, he will tell you he's found a "template" for the rest of the party. And if you ask the inner rungs of his Rolodex — a loyal circle of friends, former aides, and donors now eyeing his future in a possible presidential race — they will return again and again to the same point: that the qualities that made him a great fundraiser are the same ones that have helped him find success as governor, and set him apart in substance and style.
To start, they say, he may be the only guy in Democratic politics still having any fun.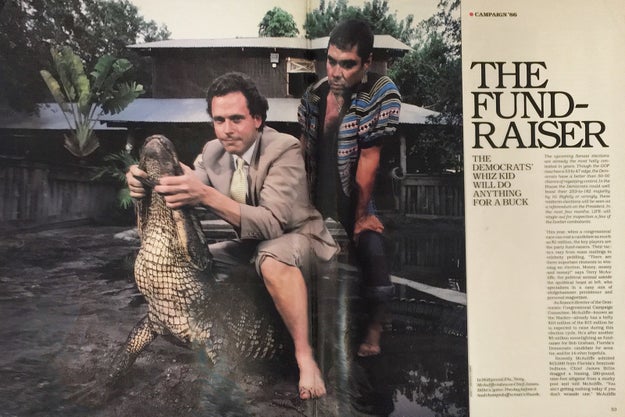 Courtesy LIFE Magazine
On a Saturday afternoon this summer, a small troop of volunteers assembles in the Washington suburb of McLean, Virginia, ready to canvass the neighborhood for Ralph Northam. Near the front of the living room, a supporter is running through instructions: "So when we're knocking on a door," she tells the group, "I'll just quickly go through the script with you—"
All at once, the presentation comes to a halt, get-out-the-vote scripts are put aside, and the living room's collective center of gravity shifts as Terry McAuliffe lets himself in through the front door and pops into view, his voice booming: "Hey! HEY! Hello, everybody! How you all doing today! Good crowd! How are you! Great to see you again! How ya been! How you doin', everybody! Fired up! Yeah! We got a whole crowd here!"
"People like me because I'm a man of the people," he once said, "a hustler."
The next day, McAuliffe blasts into a small conference room, late for a bill signing. He circles the table for hellos. In the back, a woman turns to her friend: "He must have, like, five energy drinks a day." Later that week, he joins tribe leaders at the Mattaponi Pow Wow in West Point, Virginia. After the official ceremony, intricately dressed performers move into the reservation circle, dancing in tight, coordinated movements. Suddenly, McAuliffe darts back into the circle, jogging in place, clapping to his own quick rhythm while the Mattaponi drums beat slowly behind him. "Alright," an aide says, chasing after him, "I guess we're going dancing again."
This is how the governor enters a room: in a whirlwind, tearing through it, jolting the people around him awake. This particular week was a normal one for McAuliffe: 51 events across Virginia, plus a quick trip to New York.
McAuliffe has always moved at a pace of "one thousand miles an hour," as he put it in 1998. "People like me because I'm a man of the people," he once said, "a hustler." His approach is all-out to the point of extravagance. At the age of 14, he started his own driveway sealing business and built it into a small empire. ("I used to make my mother answer the phone, 'McAuliffe's Driveway Maintenance.'") His classmates at Bishop Ludden Junior-Senior High School elected him president in 8th, 9th, 10th, and 11th grade. As a senior, McAuliffe mounted a bid for student body president. On the day candidates made their pitch, he and his friends borrowed two golf carts, stuck police lights on top, dressed up in trench coats and sunglasses like Secret Service agents, and, lights flashing, came flying into the Bishop Ludden auditorium to the sound of Hail to the Chief. "The place was going berserk," says Duke Kinney, one of McAuliffe's best friends since kindergarten. "Behind our school was this big hill called Hawk's Hill. And Terry finishes his speech with, 'If it takes a keg of beer on a Friday night up on Hawk's Hill to win this election, I'll sponsor the keg of beer!'" ("He won that in a landslide," Kinney says.)
As a young fundraiser, he'd tell his deputies to "scorch the earth!" and "be animals!" He'd call donors every year on their birthdays. He'd send drugstore valentines every Feb. 14. When he started to work on his memoir, McAuliffe's coauthor, Steve Kettmann, ended up moving into the family's guest house for weeks at a time just to keep up with the pace. ("He didn't sleep for like a year," McAuliffe says of Kettmann. "He hated it! But he had fun!")
Staffers who have served as McAuliffe's body man, trailing him each day from early morning to late evening, can't recall him ever taking a nap. More often than not, they say, on long car rides or flights back to Washington, they'd be the ones asleep. "We had a game where he would find my seat, write a card that said, 'You're an embarrassment,' put that in my lap, and then take a picture of it and send it to the entire DNC," says Justin Paschal, his former body man and longtime close aide.
"Few people work harder than me," McAuliffe says now. "I will outwork you."
The job of governor, as he sees it, is a "perfect" fit for his personality, work ethic, and affinity for executive roles. "I'm happy doing whatever I'm doing. I really am." But governor — "it's the perfect job for me. Most people will say, 'This is the perfect job for Terry.'" He couldn't be a US senator or a member of Congress, he says. "I could never do it. It's just not who I am. I know who I am. I don't mean it negatively. It's just I like executive roles."
But governor — "it's the perfect job for me. Most people will say, 'This is the perfect job for Terry.'"
The approach has helped him rack up some high-profile achievements, which he will list for you in rapid succession: a long battle to restore voting rights for 206,000 felons; a four-year campaign to court $20 billion in new capital; a series of investments in education, childhood hunger, and cybersecurity. At the canvass kick-off in McLean, he quickly launches into a speech about his tenure, punctuating every other point with his own system of exclamations: "Folks!" he says. "Truly historic!" "Truly, truly extraordinary!"
"You know the numbers!" he says.
You will hear dozens of them in a Terry McAuliffe stump speech, which is not so much a speech as a list of personal benchmarks, curated by the governor and his staff: stats, achievements, and special designations that might apply to McAuliffe ("most traveled governor in America!"), his administration ("most vetoes" in state history, and not one overridden by Republicans!), and his policy efforts (more voting rights restored than under "any administration in the history of the United States of America, folks!"). McAuliffe seeks out these distinctions, asking his staff to research and vet and verify each one. "Before I'm allowed to say it, these guys have to fact-check it," McAuliffe says. If he is the first governor to visit some far-flung part of the state, aides clip and save the coverage in the local papers. "Eighty, 90, 100 events now," McAuliffe says. "We enjoy it… We love it!"
No distinction is too small. This is "Gov. Superlative," says Brian Coy, a longtime aide.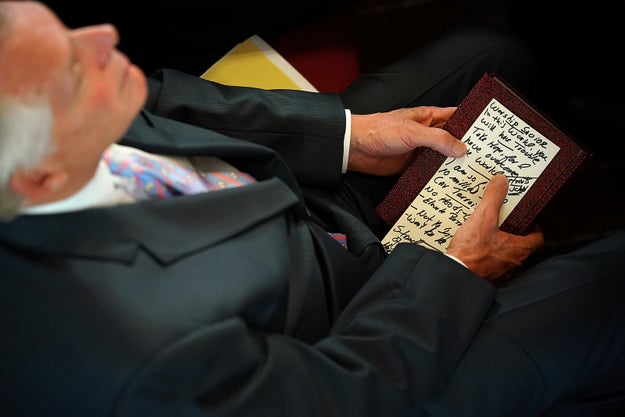 McAuliffe holds his notes before delivering at the First Baptist Church in Charlottesville after the white supremacist march and subsequent violence in August.
Win Mcnamee / Getty Images
McAuliffe gets worked up about nearly every aspect of the job. Routine bill signings are "great!" — "really great!" Speeches (he gives about six to eight a day) always get "a little flavor." Every vetoed Republican bill is a mark in the W column. "They can't beat me on the vetoes!" he says. "We had one of my favorite Democratic senators, a new one — the [Republican] leader went to him and said, Please give me one vote. I just want to beat the guy once." Even McAuliffe's failures are "spectacular" — namely, his five attempts to push Medicaid expansion through a Republican legislature. He's made a habit out of mentioning the defeat. "The one thing I've tried — and I apologize, I've been a spectacular failure at it — is getting Medicaid expansion done," he tells the crowd in McLean. "It hasn't been for want of tryin'." His point, he explains later, is that "I work my heart out. People fail in life, you know? And admit it! But you tried." (McAuliffe plans to make a sixth attempt in his final budget as governor, hoping that last month's sweep of down-ballot Democratic wins may convince GOP lawmakers to bend.)
For Republicans like Emmett Hanger, a 69-year-old who has served for more than three decades in the General Assembly, the governor's style is "always out there," he says after a pause. "He tends to be just borderline flamboyant. But, yeah… He's fun to work with."
This is perhaps most true when McAuliffe is entertaining at the Executive Mansion, a blonde brick Federal-style building that sits atop a sweep of lawn in downtown Richmond. It's not unusual for the governor and his wife to host two receptions in one night. He will happily give you a tour of the house, bounding up the stairs — two steps at a time — to show off this painting or that architectural feature. On the first floor, the bar has become a permanent fixture, lined with gleaming bottles of vodka, rum, gin, whiskey, and liqueur. A kegerator sits in the back corner. The handle is engraved with his name. Music fills the room via Pandora stations like "Jimmy Buffett Radio" and "Happy Hipster Holiday."
On this particular night, the day after his McLean visit, McAuliffe gives a typical welcome to a delegation visiting from out of state: "I'm the only governor to install his own kegerator over here," he tells them. "Take advantage! We've got Stone IPA in there! I just opened our 199th craft brewery! Three hundred wineries now here in Virginia, believe it or not! We just moved into fifth place: California, Oregon, Washington, New York. I don't count New York — they use their grapes for jam. We don't do that," he says, and the room laughs along. "We're movin' to number one! Forty-six distilleries! Eight varieties of oysters! Virginia's for lovers! You get it!"
"Alright," he finally yells.
"Crank up the music now!"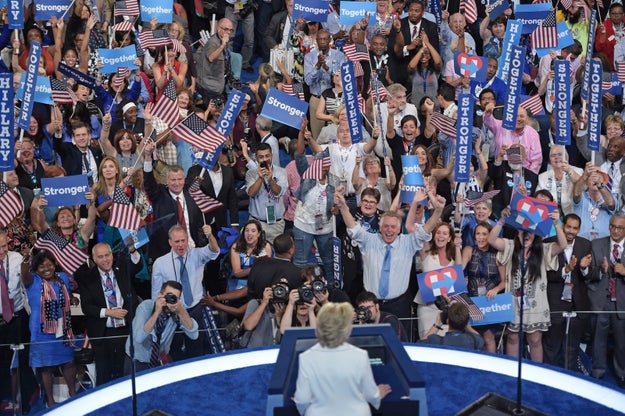 McAuliffe cheers as Hillary Clinton takes the stage at the DNC in 2016.
Brendan Smialowski / AFP / Getty Images