Sometimes in this insane, mixed-up world, when our hearts are grieving and we have actually suffered ravaging blows, when loss feels unfathomable, and the fight appears strong, the most comforting words of all are simply these two.
"Jesus wept."John 11: 35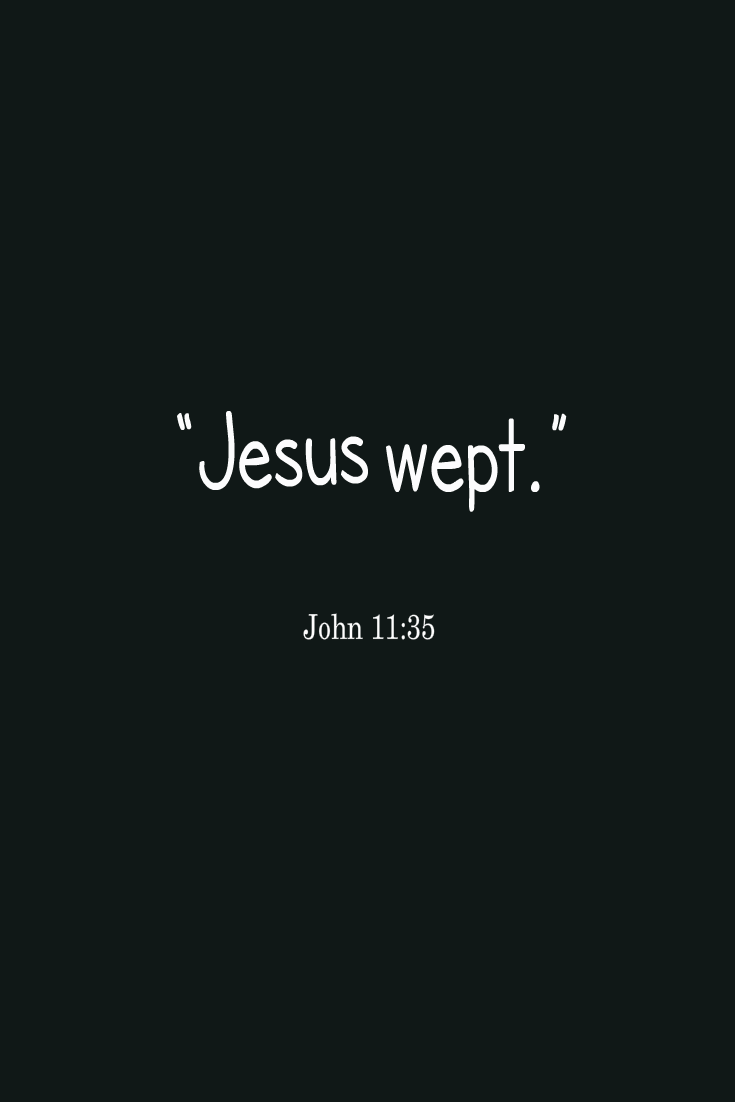 The quickest verse in the Bible, yet one that holds such fantastic power. That permits us to see directly into the really heart of our God whose heart beats for us. Into the empathy of our Savior who is familiarized with sorrow and comprehends deep grief. Into the really Spirit of God who covers us, is with us continuously, and breathes life into our innermost being.
He wept. He hurt. He grieved. He skilled loss. He felt empathy. He comprehended this course of suffering.
There are some who stroll in our world today, and wrongly think they hold fantastic power. They bring a weapon, display a weapon, or spill out vicious words. They attack, they abuse, they follow the really wicked whispers of the opponent himself.Their primary objective is "to steal, kill, and destroy."John 10: 10But exactly what they have no idea is that they can never ever genuinely win. For they're not simply combating versus flesh and blood, they're combating versus God.
AndHe's currently won. He's triumphant. He holds the secrets over death.
Here's reality in all the insaneness of this world from the God who made us and hold all things in His power today:
He understands all.
He's with us.
AndHe wins over evil.
Death never ever holds the last success for one who is released by Christ.
Jesus has actually dominated all of it by His own sacrifice on the cross.
And no single shooter, no hand of a terrorist, no illness or cancer, no terrible mishap, nor even the last days of our aging can ever separate us from the love and large grace ofGod For He has actually set eternity in our hearts. We're released by His power. One last breath here in the world is simply the start of life evermore.
We never ever need to fear.
Continued prayers for Oregon today …
MayGod's convenience and peace cover all those who grieve.
He weeps. With us.
AndHe's still here. With us …
"So do not fear, for I am with you; do not be dismayed, for I am your God. I will strengthen you and help you; I will uphold you with my righteous right hand."Is. 41: 10
"You, dear children, are from God and have overcome them, because the one who is in you is greater than the one who is in the world." 1 John 4:4
"In all these things we are more than conquerors through him who loved us. For I am sure that neither death nor life, nor angels nor rulers, nor things present nor things to come, nor powers, nor height nor depth, nor anything else in all creation, will be able to separate us from the love of God in Christ Jesus our Lord."Rom. 8: 37-39
"The Lord is close to the brokenhearted and saves those who are crushed in spirit."Ps. 34: 18
"Jesus wept."John 11: 35
"The Two Most Comforting Words of All" initially appeared onCrosswalk com
e|| e>> h|| (a.j|| (a.j= brand-new W( 1E3 ), R( a.j,"tick", n( function() , a))), a.j.dispatchEvent("tick"),0
<