The best television in a year that has sometimes felt like a cultural and political nightmare.
Jane the Virgin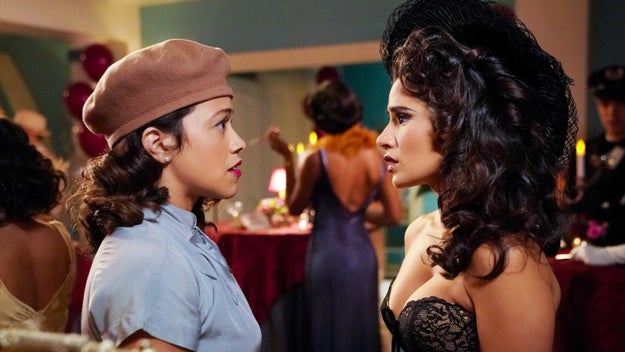 Since it premiered in 2014, Jane the Virgin has been my go-to salve. Watching it is like taking a warm bath or talking to the friends and family you trust. That became especially useful in the chaos of 2017. The show went through some massive changes over the past year, especially with the death of a major character. But it was still Jane the Virgin: fun, silly, and heartrending. It's a show built to feel like home. Every week, I am still excited to hang out with my friend Jane and her family. —Alanna Bennett
The CW
The Good Place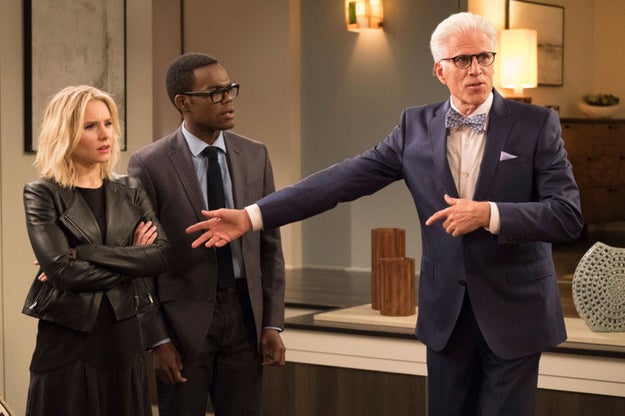 2017 has frequently felt like being in the "bad place" — thankfully, the show that gave us that term has been a thrillingly unique, endlessly entertaining distraction. I was hooked on The Good Place from the start, but the Season 1 finale that aired in January was a total game changer. Suddenly, this cute, quirky show announced itself as a subversive mindfuck that successfully fooled the vast majority of its audience. And Season 2 has continued to deliver on that promise, with a commitment to constantly resetting the rules. The cast — Kristen Bell, William Jackson Harper, Jameela Jamil, Manny Jacinto, Ted Danson, and D'Arcy Carden — form one of the best ensembles on television, and the consistently fresh material lets them stretch from week to week. It's rare to find a series that's this hard to predict, and even rarer to find one that is also warm, funny, and charming. —Louis Peitzman
NBC
RuPaul's Drag Race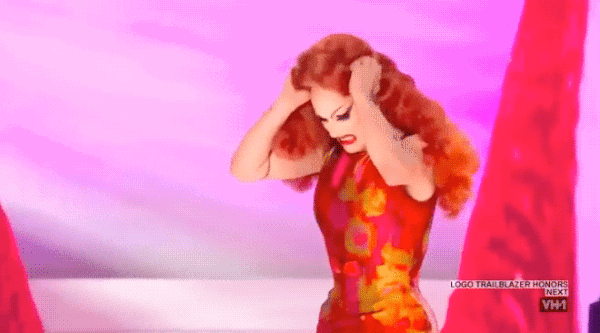 Mea culpa: Prior to this year, I hadn't watched RuPaul's Drag Race for the insanely snooty reason that my husband and I didn't get its channel, the LGBT-themed network Logo, in HD. But for Season 9, the Emmy-winning reality competition show moved to the HD-friendly VH1, so we finally tuned in — and I felt immediate regret that I hadn't been watching this fabulous hour of TV so much sooner. Within days, I was obsessed, binging through past seasons during the week to tide me over until Season 9's latest episode every Friday night, when I could obsess over the sudden downfall of Valentina, lament the unrelenting defeatism of Nina Bo'Nina Brown, and marvel at the buoyant virtuosity of dynamic duo Shea Couleé and Sasha Velour.
First and foremost, this show is just great television. Dramatic surprises and delightful moments abound, and the sheer creativity exuding from every padded, tweezed, and contoured inch on the queens' bodies is a deeply heartening blast of glamour, talent, and skill. That would be true in any year, but to have this indefatigable celebration of queerness sashay into my home as the world began to feel so unrelentingly harsh and inhospitable — well, reader, when I say that RuPaul's Drag Race saved my life this spring, please know that I mean that with all of my gay, glittery heart. —Adam B. Vary
VH1
Black-ish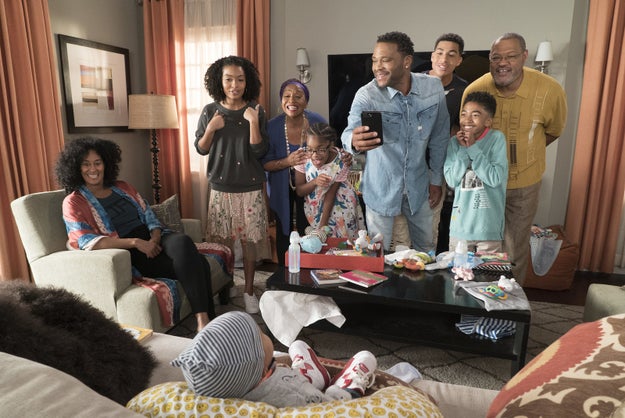 There's something really comforting about seeing a black family thrive on television week after week despite living in a country where we constantly feel like we're under attack. It's a weekly reminder of our resilience and ability to find joy and laughter, when we lean into each other, no matter how dark things get. No matter how terrible the world outside the Johnson household is, they always have each other, and for 30 minutes every Wednesday, I too, felt like I could lean on them for guaranteed laughter and a good dose of black-ass family life which, when you're living alone, is especially appreciated. When I see the Johnsons, I see bits of my family and the families I grew up around and I'm comforted by the inside jokes and familiar life lessons. Whether they're playing a super competitive game of black monopoly, deciding between going to private school vs. public school, or dealing with microaggressions from white coworkers – I felt seen. When Black-ish is on, my black-ass life, and that of the people I love, feels like it matters, even if only for 30 minutes. —Sylvia Obell
Eric Mccandless / ABC
Big Little Lies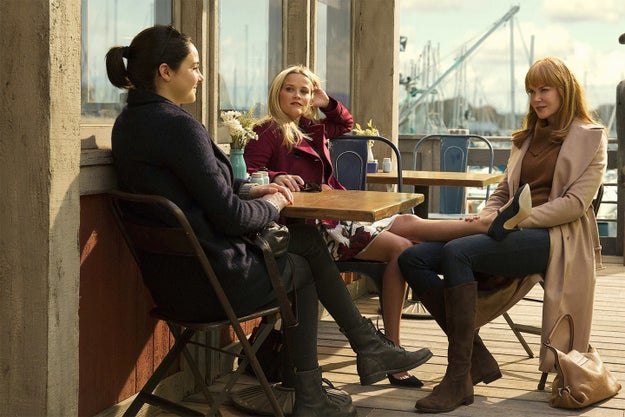 Big Little Lies is the show I am most thankful for this year. When it premiered in February, I already knew it would be great. It starred exclusively Hollywood heavyweights, who spent a considerable amount of time jogging on the beach in pretty California blue light, posturing about class, and foreshadowing murder. It was bound to be thrilling. What I didn't know going in, though, was just how much Big Little Lies would touch me. But the show was both gripping and haunting in the ways it navigated the overarching threat men pose to women — and in the ways those women alternately pull apart and bind together on their own. It premiered just after the Women's March, so it was timely. But it was also timeless, grounded in character and feeling that stretch so far beyond the political confines of 2017. This is a show that's going to stick with me. I can tell I'll be revisiting this season whenever I need it, for years to come. —A.B.
HBO
The Handmaid's Tale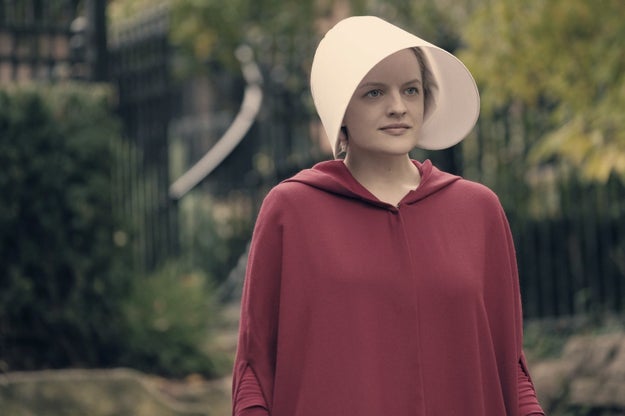 That Hulu's adaptation of The Handmaid's Tale is excellent is not a secret; it dominated the Emmys, winning eight, including Outstanding Actress in a Drama for its star, Elisabeth Moss, and the prestigious Outstanding Drama prize (the first time a streaming service has won in the Emmys' most important category). So we fans are not in some niche cult, desperately trying to convince others to watch our show. Yet because of The Handmaid's Tale's transgressive material — which mirrors the current sense of dread evoked by the Trump presidency's contentious relationship with the rights of people of color, immigrants, Muslims, and women — watching the show's first season was an arduous pleasure. No, we do not live in Gilead, the show's fictional world, but it does feel like some of our lawmakers may aspire to, and that doesn't feel good at all.
So why watch this damn thing if it's just dystopia porn for the Trump era? Sure, there are The Handmaid's Tale's merits: high-quality storytelling, its stunning direction, and its moving, intelligent performances. And for those of us who love Margaret Atwood's 1985 novel, it's exciting to see her world rendered.
Honestly, though, those qualities wouldn't be enough if the show didn't also offer hope. Watching The Handmaid's Tale, there are constant reminders that American resistance is alive, well, and loud — and not an underground whisper network, as it is in Gilead. Frankly, it's a relief!
More important than showing that we're not actually living in a fascist state, though, is The Handmaid's Tale's representations of dissent. In the figures of June (Moss); her best friend, Moira (Samira Wiley), who in the season finale escapes to Canada, which in the show (and perhaps in real life) seems like heaven; and June's husband, Luke (O.T. Fagbenle), who is already in Ontario, we can see the beginnings of the end of Gilead, which, as book readers know, will fall at some point. And then there's the resistance among the handmaids themselves, who find levers to be defiant in large (June's departure in the season finale's cliffhanger) and small ways (their silent, collective refusal to stone to death one of their own, also in the finale). To quote June, "They should have never given us uniforms if they didn't want us to be an army." The Handmaid's Tale is not a downer; it's edifying, thrilling, and necessary. —Kate Aurthur
George Kraychyk / Hulu
Insecure
In its second season, Insecure continued to be one of the most relevant shows to city-living young, black adults in the country. Whether depicting that "hoetations" after breakups aren't always as glamorous as some might imagine or demonstrating the professional struggle of moving up in the corporate world when you're black, the show's characters felt like they could be your friends or, at least, people you know. While watching Issa, Molly, and yes, Lawrence, make one bad decision after another caused me to go on rants like someone's black grandma in some of my own friend groups, it also allowed my friends and I to reflect on how we handled experiences similar to those depicted on the show. In a year where the news of the day consumed so much mental and emotional space, the opportunity to reflect on personal growth through the growth as well as the insecurity of the show's characters, was a blessing as a young, black woman working in a newsroom. —Kovie Biakolo
HBO
Sweet/Vicious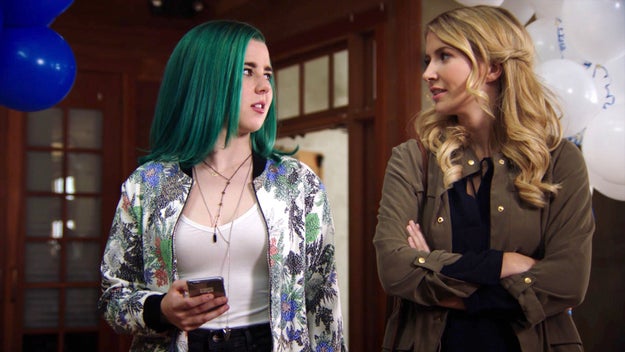 Sweet/Vicious finished out its first and, so far, only season in January, meaning that it slides into year-end lists just under the wire. But, in my opinion, any list would be remiss not to include it. Following two college girls who team up as vigilantes to take on rapists on their campus, the Sweet/Vicious was both timely and — in the world of 2017 — ever so slightly before its time. It also handled its subject with a thoughtfulness that has been, historically, unfortunately rare on TV. The show also had a beautiful female friendship at its center and some great comic good vibes that could have changed the superhero conversation if MTV has opted to renew the show. I loved Sweet/Vicious. I miss it. And I hope someone, somewhere, gives it another chance. —A.B.
MTV
The Real Housewives of Atlanta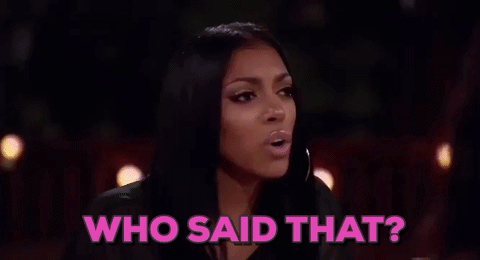 When the world is a mess, I'm looking to escape into something that's even more of a mess, and BOY did Season 9 of The Real Housewives of Atlanta deliver. Each episode packed as much drama as a Trump tweet. Not only did the ladies come with regular drama in the form of divorces, career pursuits, and housing battles, but it also dropped two of the franchise's biggest scandals: a proposed threesome between two cast members and a husband, as well as a big revenge, date-rape lie, and cover up. If your head is reeling from reading that last sentence, it should be. There were so many lies in play that every time the women all came together for a dinner, Twitter was in a frenzy. One minute, text message receipts were being handed out at dinner like homework, the next we were getting iconic GIFs like "Who said that?!" And then — during a record-breaking, four-part reunion — we were gifted with a rare truth reveal that snatched wigs across the globe and resulted in the firing of Phaedra Parks. It was such a mess that I could literally think of nothing else every Sunday night, and for that I am grateful. —S.O.
GIPHY via Bravo
The Bold Type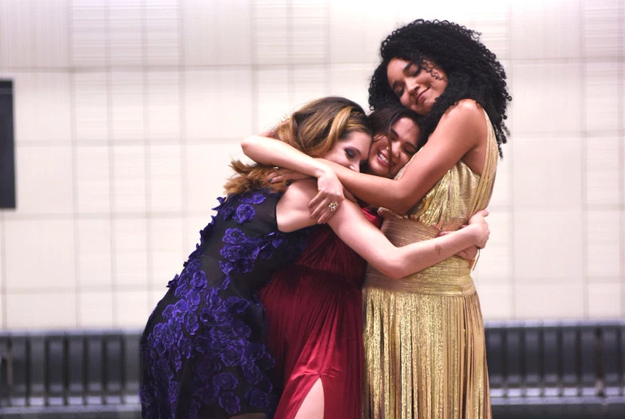 The Bold Type drew me in with a simple enough formula. All I really needed was a group of young women friends, navigating love and life and work in New York City while wearing some truly fantastic jumpsuits. I was an easy sell. And when I sat down to watch the pilot this summer, I was pleasantly surprised: This wasn't just a show I'd watch in my bed as a personal guilty pleasure, it was one I could actually recommend to my friends. It was actually trying in its attempt to be woke, and in many ways, it was succeeding. The show still has room to grow, but the raw materials for something great are all there. And it's a delight. —A.B.
Freeform
Game of Thrones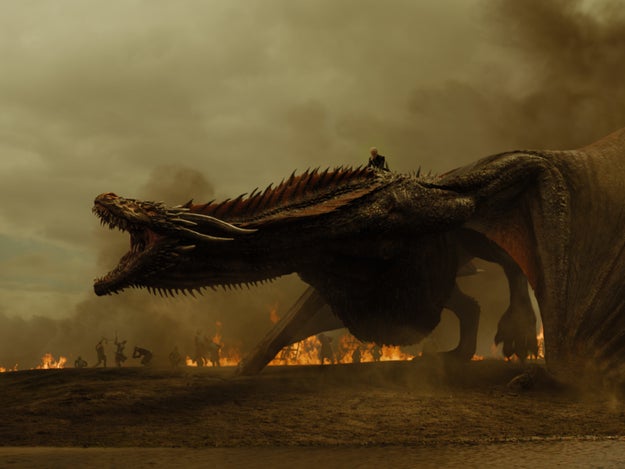 In its seventh season, Game of Thrones was one of few shows that managed to completely cut through the relentless news cycle. While one might think the cycle's propensity for contentious topics could affect how viewers consume the show (especially given its proclivity for portraying violence), the show actually became a welcome escape. And in this escape, rooting for a dragon's fire breath to destroy an army felt entirely satisfying in Episode 4, "Spoils of War."
The intelligence of the show has always been its ability to showcase complex characters and sometimes obfuscate our understanding of good and evil, right and wrong. But this season, the show also leaned into a big-picture understanding of what a fight for humanity looks like when it is not only among groups of people, but between humans and a darker force. Considering this and the endless theories the show spurs, GoT continued to do what fiction does best — allow us to imagine. In such a year as this one, that is a gift. —K.B.
HBO
Jeopardy!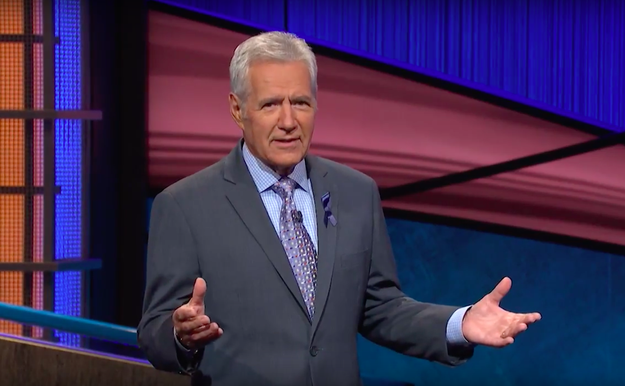 It'd been years since I'd watched this nightly quiz show institution with any regularity, but a few rather major things happened in my life this year: One, my husband and I adopted our newborn son; two, we started going to bed at 10 p.m.; and three, we both realized quickly that if we wanted to have anything approaching restful sleep, we couldn't watch anything too heavy and/or depressing after 8:30 p.m. — not so easy to do in 2017.
Enter Alex Trebek and his merry band of nerds. After 33 years on the air, the pleasures of Jeopardy! — from testing your own mastery of erudite trivia to judging the contestants' questionable fashion sense — should be manifest. To that list, I would only add that watching a show rooted in the celebration of hard facts has been a soothing balm in a year in which the the very idea of factual information has been inexplicably under assault. —A.B.V.
NBC
The Real Housewives of Dallas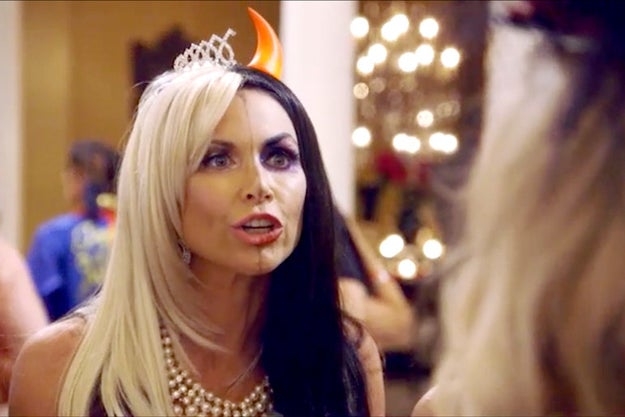 Not one of the more beloved Real Housewives installments, the first season of The Real Housewives of Dallas came and went without much fanfare. To be fair, it couldn't always match the drama of some of its sister series, but RHOD's aims were simpler: assemble a strong cast and have them fight over fake dog poop. Even those who enjoyed the first season, however, would admit that Season 2 wins the Housewives award for Most Improved. Perhaps it was the addition of no-nonsense voice of reason D'Andra Simmons and pink dog food purveyor Kameron Westcott, or maybe it was just that the show had settled into itself. The fun and the fights both seemed more organic and compelling: The estrangement and reconciliation of BFFs Brandi and Stephanie was Housewives at its best. And LeeAnne remains a star, a fiercely opinionated former carnie who wouldn't let a bout of flesh-eating bacteria get in her way. When will your fave? —L.P.
Bravo
American Vandal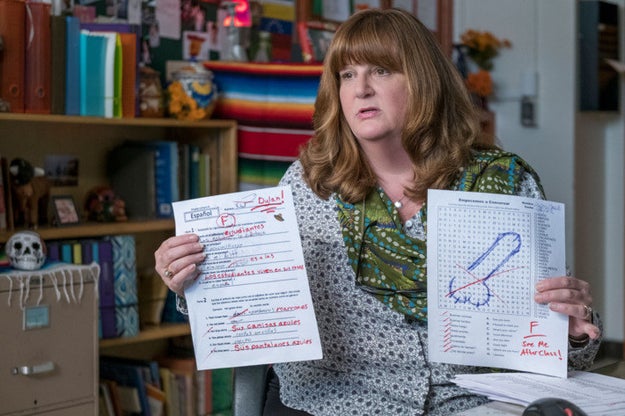 I would not have expected that, in 2017 of all years, what I'd really need was a show in which everyone says the word "dick" three times a minute. But when I sat down to watch American Vandal, I came to realize that a whole lot of dick jokes was exactly what I needed. How brilliant was it to take the true crime style of Serial, The Jinx, and The Keepers and use it to solve the mystery of who spray-painted 27 dicks on faculty cars in a high school parking lot? It's so genuine that at some point it clicks past dick jokes and you really do just need to know who drew those dicks. In 2017 in particular, who knew a bunch of graffiti genitalia could give way to a fascinating meditation on character? Who amongst us hasn't met a Dylan Maxwell or an Alex Trimboli? —A.B.
Netflix
BoJack Horseman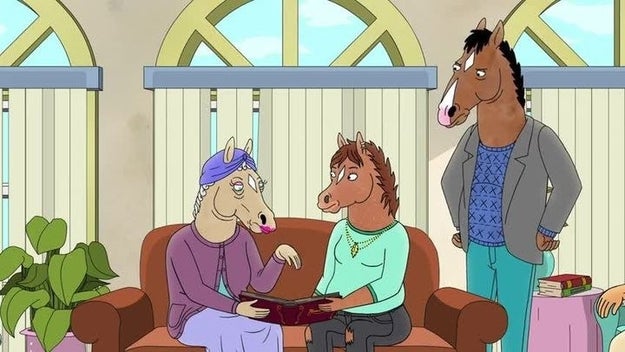 Listen, this is a perfect show. It's been a perfect show since it premiered in 2014 and introduced its unique blend of trenchant Hollywood satire, sublime cartoon silliness, and profound existential drama, all set in a world in which an anthropomorphized horse-man named BoJack (Will Arnett) could be a faded '90s sitcom star plagued with severe insecurity and enormous self-importance. For Season 4, BoJack somehow managed to deepen its affecting portrait of depression and unhappiness — largely through BoJack's mother Beatrice (Wendie Malick) — without tipping headlong into total despair. (Season 3 did, and brilliantly, but one season of unrelenting bleakness is plenty.)
The show also explored how a catastrophically unqualified person — er, in this case, a golden retriever named Mr. Peanutbutter (Paul F. Tompkins) — somehow manages to become a frontrunner candidate for major elected office. That might feel too on the (adorably cold and wet) nose, even for 2017, if BoJack didn't take it to some wonderfully absurd places — like Mr. Peanutbutter's ex Jessica Biel (voiced by Biel) becoming drunk with power after a fundraising party falls into an underground sinkhole, leading her to set Zach Braff (voiced by Braff) aflame.
Well, OK, that may be the most 2017 storyline. —A.B.V.
Netflix